Project Runway Season 15 premiered 15th September 2016, and Project Runway 2016 is going back to its roots with a very unconventional challenge.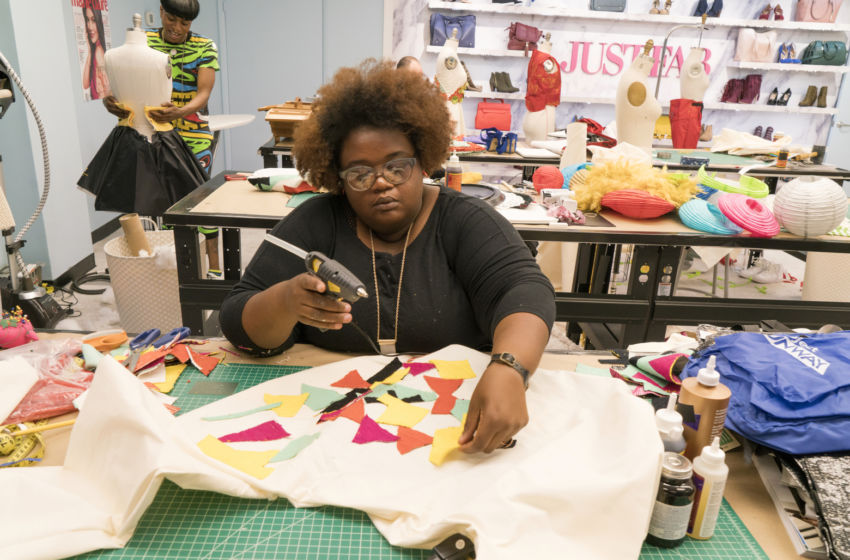 The 16 new Project Runway designers met at a lovely New York City loft for what they thought was a premiere party with Heidi and Tim, but met a surprise! The supplies in the party room were actually materials for very their first challenge on the reality TV Show.
The Project Runway contestants had just five minutes to grab as much as they can from the room, and the moment Heidi says "go," the Project Runway designers got to business.
One designer actually ripped things from the hands of another designer. Truth is, if I were on this Reality TV show, I'd have to send a model down the runway without clothes!
Project Runway Designers | Project Runway Season 15
Well, here's a little bit we know about these 16 Project Runway designers so far:
Brik Allen(26), Baton Rouge, LA: Brik's dad dropped him off at the airport to fly to New York City and said to him, "Always remember to say 'yes, ma'am' and 'yes, sir' and to win, goddamn it." Manners are very important.
Cornelius Ortiz(24), Boston, MA: Cornelius is a former classmate of Nathalia.
Laurence Basse(41), Los Angeles, CA: While Laurence was in design school, she paid for her bills by being a model. She may be known for leatherwork, too, but that's yet to be seen on the show.
Jenni Riccetti(22), San Francisco, CA: Jenni laughs in a ridiculous way.
Sarah Donofrio(34), Portland, OR.
Nathalia JMag(23), Framingham, MA: Nathalia is a hustler, and tries every day to hustle harder than the day before.
Ian Hargrove(30), Chicago, IL: He is a ready-to-wear designer. He also doesn't take any advice.
Roberi Parra(32), Miami, FL: He is originally from Venezuela and had an intention of going to an architectural school, but has been designing in fashion instead for 10 years.
Tasha Henderson (33), Shreveport, LA: Tasha makes designs for girls who do not like heels, and she also called Tim Gunn "boss man."
Erin Robertson(29), Cambridge, MA: Erin grew up Mormon without an access to the internet.
Linda Marcus(55), Milwaukee, WI: Linda is a handbag designer. She also wants to do well so she can show people that it's also possible to start a new career even at 55.
Alex Snyder (30), San Francisco, CA: Alex runs his own company and also teaches at a college once in a week.
Kimber Richardson(42), New York, NY.
Rik Villa (31), Los Angeles, CA.
Dexter Simmons(32), Oakland, CA: Dexter initially studied herpetology at Berkeley. But he went into fashion when he decided he'd better be attacked by designers than snakes.
Mah-Jing Wong(28), Philadelphia, PA: Mah-Jing in this TV Show competition for his wife and also a daughter. And he'll do anything to win it.
Back in the workroom of Project Runway Season 15, Tim points out that the challenge is for the contestants to be able to show the Project Runway judges who they are as designers. They also have to that essence of themselves into their designs.
While in the workroom, Alex Snyder says that he wants to help people as much as he can, nice of him. Cornelius and Nathalia also helped each other, even though they're "rivals."
Tim also comes back to the workroom for his critiques, and it was quite clear who is struggling.
Ian Hargrove is making a simple shift dress, and also refuses to listen to his mentor's ideas, which I think is a Huge mistake. When he got to Dexter, Tim was a little hesitant his umbrella skirt and pillow top wasn't pushing it enough. Dexter had a rethink of the look fast.
Tim has mostly positive responses as he made his way around the workroom of the Project Runway Season 15, but not when he got to Erin. Erin basically had nothing done. And while the whole room was worried, she wasn't.
Also, the next morning while everyone was scrambling with last-minute touches, adjustment and also taking their models for hair and makeup, Erin was still as calm as ever. Well, she somehow had a finished look to send down the runway when Tim calls time.